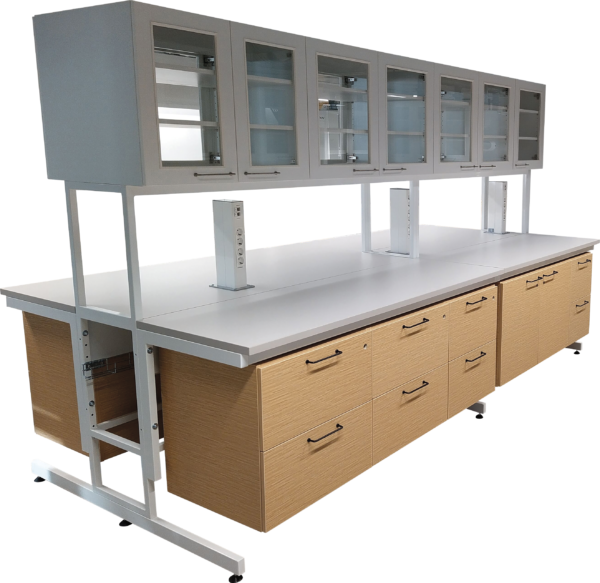 Island modules enable efficient use of the middle part of the room.
The island module is the most versatile of the VisuLab collection, because almost all features can be integrated into it.
Building technology is provided through the central installation unit.
The indented vertical frame improves ergonomics especially when sitting down.
The L-frame type is also available with electrical adjustment. See more information about electric tables under Electric table.
Under-desk furniture is fitted onto the desk frame, leaving the floor clear, and the furniture can also be moved to a different position under the desk. The under-desk furniture can also be removed and placed under another desk.
An island module can also be made in tailored sizes. Note The figures in the table below indicate the worktop dimensions.
Product information
Description
Product code and standard depth [mm]
Recommended widths [mm]
Height, [H, mm]
Adjustable worktop/fixed overhead unit
Additional information
Island module
RK2-W-1500-H
900, 1200, 1500, 1800
750-900 / 1400
Worktops are also available with electric adjustment (750–1000 mm).
Features
| | |
| --- | --- |
| Installation method | Free-standing on the floor, adjustable legs standard. Note. Can be mounted if necessary. |
| Materials | Powder coated steel. |
| Worktop | We offer a number of alternatives for worktop material. Read more about them under Worktop materials. |
| By order | As an overhead unit, we recommend an overhead pass-through cabinet or just shelves. Electricity, lighting and faucets and sinks are designed and implemented according to need. |