Download product card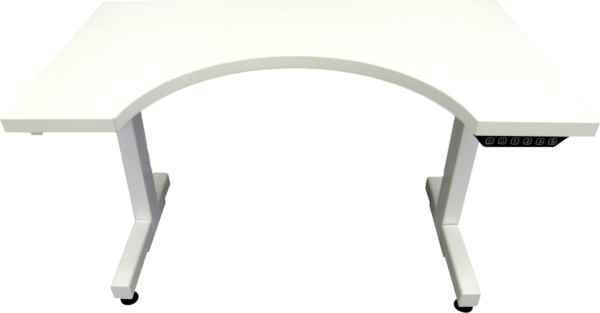 Designed for microscope work requiring great precision.
The microscope desk has electric height adjustment as standard. See more information about electric desks here. Electrical adjustment combined with the shape of the worktop provides the best possible ergonomics.
Under-desk furniture can be placed under wide desks. The furniture is fitted onto the desk frame, leaving the floor clear, and the furniture can also be moved to a different position under the desk. The under-desk furniture can also be removed and placed under another desk.
For Standard solutions we have selected high-quality and most commonly used options in terms of dimensions and materials.
Custom solutions are always tailored to the customer´s needs.
Note. The figures in the table below indicate the worktop dimensions.
Standard
| | | | |
| --- | --- | --- | --- |
| Description | Product code and standard depth [mm] | Width [mm] | Height, mm |
| Microscope desk | RLM-W-600-S | 900-1800 | Electric height adjustment from 670 to 1320 |
| | RLM-W-800-S | 900-1800 | Electric height adjustment from 670 to 1320 |
Custom
In addition to Standard solutions, we also implement workstations according to customer´s wishes. In Custom solutions, dimensions, materials and equipment are completely up to the customer.
Feel free to contact our experts and we will find suitable solutions together!
Features
| | |
| --- | --- |
| Installation | Free-standing on the floor, adjustable pads as standard. |
| Materials | Powder coated steel. |
| Worktop | Our collection offers a number of options for worktop material. Read more information under worktop materials. |
| By order | The dimensions and location of the curved part can be tailored if necessary. Under-desk furniture is available for wide desks. |