Download product card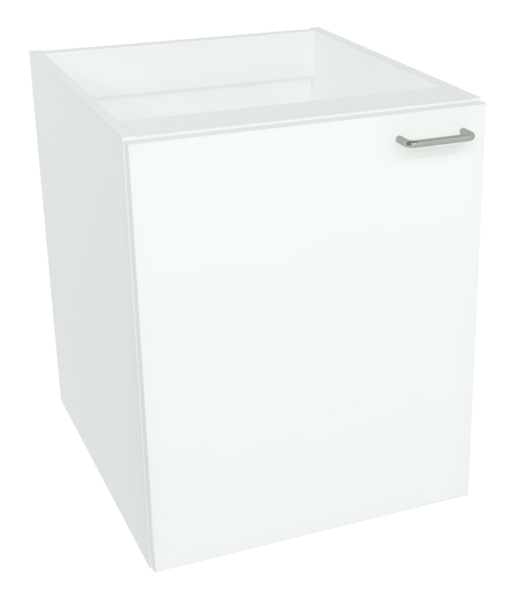 An under-desk cabinet can be fitted onto the desk frame, leaving the floor clear, and the cabinet can also be moved to a different position under the desk. The cabinet can also be removed and placed under another desk.
A standard under-desk cabinet is equipped with an adjustable shelf. The content can also be customized according to the customer's needs.
Low under-desk cabinets are dimensioned especially with electric tables in mind to ensure that they fit under the desk when the desk is at its lowest position.
Materials, handles and mechanisms are selected according to the quality category (Basic, Pro or Premium). Our experts will help you choose the right quality category. Read more about the quality categories here.
In addition to the standard dimensions, under-desk cabinets can also be made to measure.
Product information
| | |
| --- | --- |
| Description | Product code and dimensions width-depth-height [mm] |
| Under-desk cabinet | A10-400-580-620 |
| | A10-500-580-620 |
| | A10-600-580-620 |
| Under-desk cabinet with double doors | A20-800-580-620 |
| | A20-1000-580-620 |
| | A20-1200-580-620 |
| Low under-desk cabinet | MA10-400-550-465 |
| | MA10-500-550-465 |
| | MA10-600-550-465 |
Features
| | |
| --- | --- |
| Locking | Abloy-Classic furniture lock, re-keyed if necessary. |
| Installation method | On a frame, fitted to the frame or on casters, must be chosen when ordering. |
| Materials | Materials, handles and mechanisms according to quality class (Basic, Pro or Premium). |
| Contents | The standard solution consists of one movable shelf. Alternatively, you can choose no shelves and instead inner drawers at the bottom that can be taken out. |
| Castors | The unit can be equipped with castors (4 turning, of which 2 can be locked) The castors, together with the top, increase the height by 110 mm. |