Download product card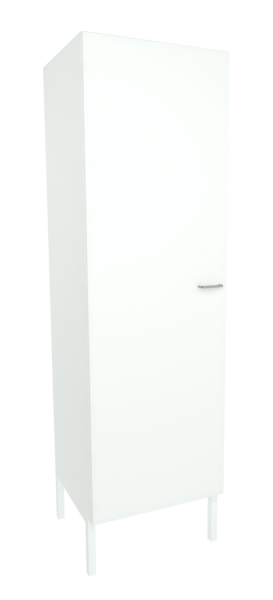 A high cabinet provides plenty of modifiable storage space cost-efficiently.
The standard cabinet has five movable shelves, but the contents can be tailored, too.
Materials, handles and mechanisms are selected according to the quality category (Basic, Pro or Premium). Our experts will help you choose the right quality category. Read more about the quality categories here.
In addition to the standard dimensions, high cabinets can also be made to measure.
Product information
Description
Product code and standard dimensions width-depth-height [mm]
Standard depths [mm]
High cabinet
K10-400-s-1850
420 and 580
K10-500-s-1850
K10-600-s-1850
High cabinet with framed glass door
K10L-400-s-1850
420 and 580
K10L-500-s-1850
K10L-600-s-1850
High cabinet with double doors
K20-800-s-1850
420 and 580
K20-1000-s-1850
K20-1200-s-1850
High cabinet with double doors
with framed glass doors
K20L-800-s-1850
420 and 580
K20L-1000-s-1850
K20L-1200-s-1850
Features
| | |
| --- | --- |
| Locking | Abloy-Classic furniture lock, re-keyed if necessary. |
| Installation method | On top of a base, we also recommend mounting on the wall. |
| Materials | Materials, handles and mechanisms according to quality class (Basic, Pro or Premium). |
| Contents | The standard solution consists of five movable shelves. Alternatively, you can choose no shelves and instead inner drawers. |