Download product card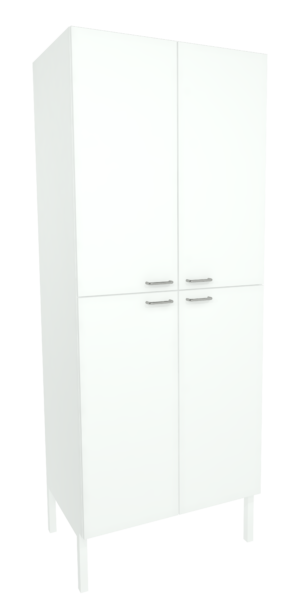 As the name indicates, the cabinet is divided into four compartments, making it easy to keep things apart.
The standard product has two movable shelves, but this can be tailored, too. 
Materials, handles and mechanisms are selected according to the quality category (Basic, Pro or Premium). Our experts will help you choose the right quality category. Read more about the quality categories here.
In addition to the standard dimensions, four-door cabinets can also be made to measure.
Product information
| | |
| --- | --- |
| Description | Product code and standard dimensions width-depth-height [mm] |
| Four-door cabinet | K40-800-420 (tai 580) -1850 |
| | K40-1000-420 (tai 580) -1850 |
| | K40-1200-420 (tai 580) -1850 |
| Framed glass door with framed glass doors | K40L-800-420 (tai 580) -1850 |
| | K40L-1000-420 (tai 580) -1850 |
| | K40L-1200-420 (tai 580) -1850 |
Features
| | |
| --- | --- |
| Locking | Abloy-Classic furniture lock, re-keyed if necessary. |
| Installation method | The cabinet is mounted on a base. |
| Materials | Materials, handles and mechanisms according to quality class (Basic, Pro or Premium). |
| Contents | Each part has 2 movable shelves as standard. Intermediate level at the seam between top and bottom doors. |